Welcome
Here is a selection of some our favourite photos from many of the different opportunities we have been part of over the past year.
South Staffs Water Workshop
Rachel Dean, Education and Community Outreach Co-ordinator for South Staffs Water visited our school recently so that the children could learn more about the importance of water and its responsible use. All children took part in a range of workshops following the Key Stage assemblies. We are pleased to be one of the first school to embark upon this joint learning venture and hope that we are contributing to the preservation of plentiful natural resources now and for future generations.
Greatest Showman Workshop- Whole School
Children from Reception to Y6 were treated to a workshop based on the film 'The Greatest Showman' led by choreographers from Tread, who specialise in theatre workshops. Children learnt dramatic performance; thought about the words from the songs and how this influenced their movements; and developed their singing to evoke important emotions. They don't quite do the performance justice but please enjoy the photos from the day below!
Year 2 Visit The Post Office
Our Y2 class recently visited the Post Office so that they could post each one of their letters of congratulation to the Duke and Duchess of Sussex on the birth of their son. It was a short but important journey and they behaved impeccably on the way there and back and also when speaking to the staff inside the Post Office. Have a look at some of the pictures below!
Easter Egg Competition
Our fantastic PTFA organised a 'Decorate an egg' competition before we broke up for Easter. A lot of entries were received and the creativity and imagination on display was quite fantastic with a winner from each class were chosen by members of the PTFA. Have a look at some of the fabulous entries below.
Mothers' Day
Children invited their mums, aunts, grandmas and other special ladies into school to celebrate and thank them for everything they do close to this year's mother's day. This was a lovely opportunity for adults to spend time with their children, eat some cake and experience different activities including: drawing, netball, archery, and cake decorating. Thank you to everybody that made the afternoon a success!
British Science Week 2019
British Science Week, run by the British Science Association is a ten-day celebration of science, technology, engineering and maths, featuring entertaining and engaging events and activities across the UK for people of all ages. British Science Week provides a platform to stimulate and support teachers, STEM professionals, science communicators and the general public to produce and participate in STEM (Science, Technology, Engineering & Maths) events and activities.
In school, we organised some fun and engaging activities including a 'Creative Builders Workshop' where Y3-6 learnt, as mini-engineers, to build houses out of Lego with working electrical components.
World Book Day 2019
A double celebration on this year's World Book Day due to the new books that have been provided for us thanks to our school PTFA. We have gratefully received a donation from the PTFA that has allowed us to develop our school library so that children continue to enjoy a wide range of text types by many of their favourite authors. We look forward to reading new fiction books by Roald Dahl, David Walliams and others as well as a selection of non-fiction books to help us learn more about our world. Thank you very much!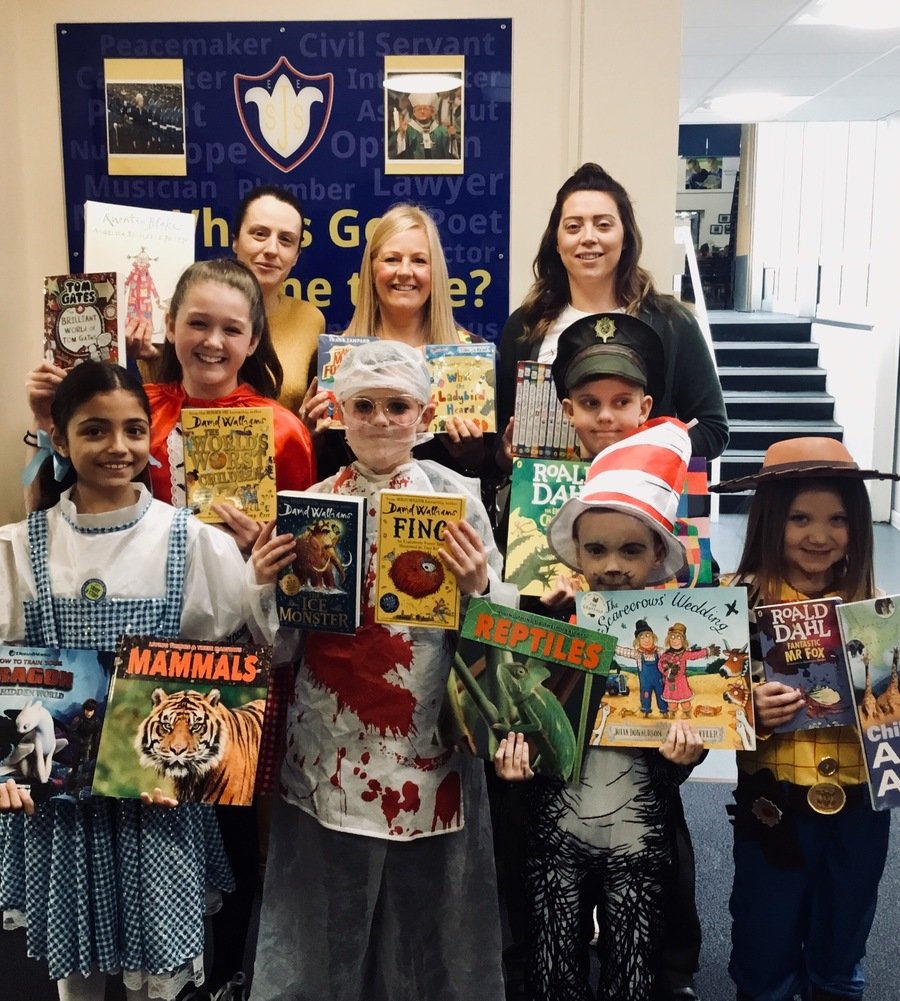 DRSABC- Emergency Response Training- Y6
We welcomed Wolves (WWFC) coaches into school to give our Y6 pupils some valuable life-skills so that they are better equipped should they ever find themselves in an emergency situation.
Using the DRSABC acronym, children learnt about to identify Danger, look for a Response, Shout for any other help and then call the emergency services along with current children's guidance for responding to anybody that had stopped breathing.
Rugeley Library & Scooterbility
Year 2 children had a busy week learning to ride their scooters safely as well as visiting their local library to see all the fantastic books and resources that they can use.
One Life Music- His Goodness Never Fails (Psalm 23- The Lord Is My Shepherd)
We welcomed visitors from 'One Life Music' into school in January to deliver a full day retreat to KS1 and KS2 children using Psalm 23 as the basis for the day. The children had a fantastic time full of enjoyment, reflection and new learning. Thank you to Emily and Dan for coming to our school.
Y6's Power Station Re-Development
As part of the local community planning opportunity for the regeneration of the Rugeley Power Station site, our Y6 pupil were visited by representatives from JTP urban architects. They put forward their ideas for the area and were tasked with drawing up their own plans for the site. On Friday, four chosen pupils will present their final ideas to the community at the final planning meeting before initial proposals are sent. Our children thought very carefully about the local area, its needs, its residents and its future. Geography, Literacy, Art and Design, Collaboration, Representation and even Public Speaking in one very enjoyable task!
Download the Report Back Broadsheet which features our pupils, below.
Carol Singing in Rugeley Town Centre & Singing for the Saint Vincent De Paul Group
Our Y5 & Y6 choir wowed the public with festive renditions of some well-known carols and Christmas songs in Rugeley town centre. Despite the cold, technical difficulties and having to compete with generators they ploughed on and kept onlookers in the festive spirit. It was lovely to see so many family and friends supporting the school children- so thank you to all that came.
Year 5 also joined the Saint Vincent De Paul group at church, singing for locals.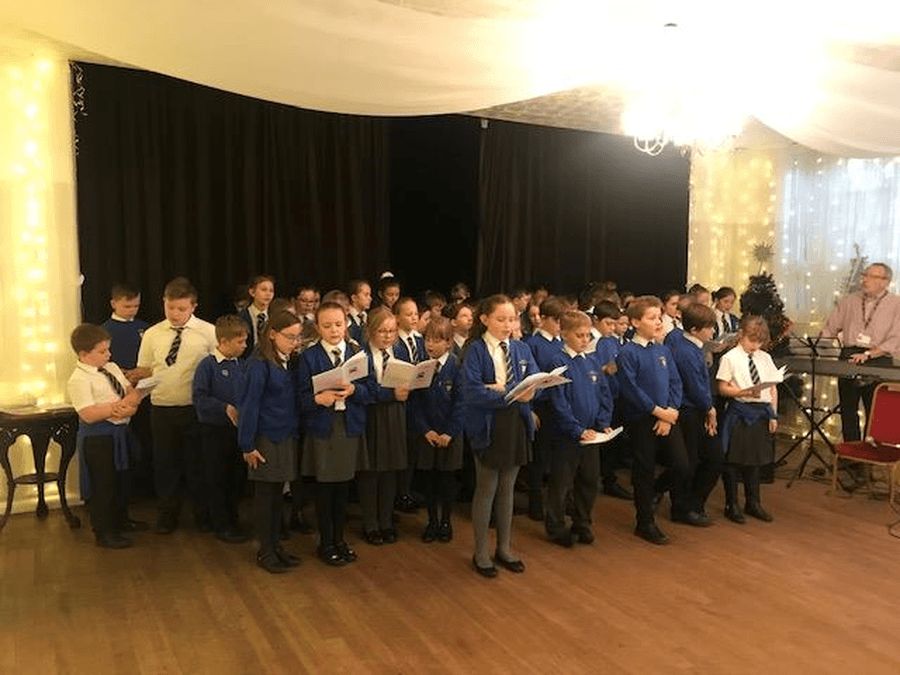 Remebering those who lost their lives in the Great War (1914-1918)
Local community
On Sunday 11th November, representatives from the school took part in a commemoration of the Great War in Rugeley town centre. School Council members read out the names of some of those who lost their lives in WWI as well as observing a two minutes' silence along with others school children, local community members and members past and present of our armed forces.
School community
Pupils from Cardinal Griffin visited our school to lead an assembly about the importance of remebering all those that have lost their lives in conflicts. During the question and answer section a most poignant and compassionate question was asked by a Year 4 Pupil - " If they knew how many people died in WWI, why was there a World War II? "
Thank you to the pupils and staff from Cardinal Griffin.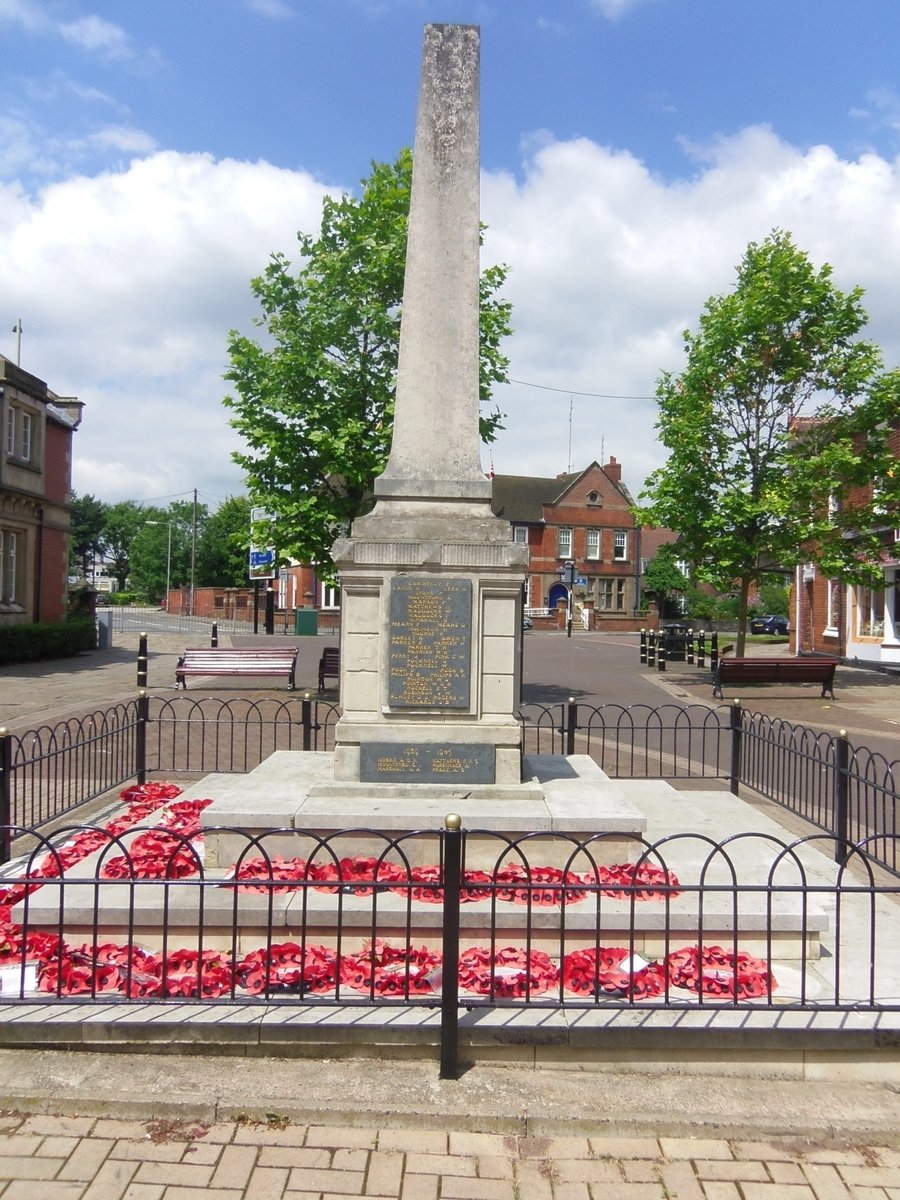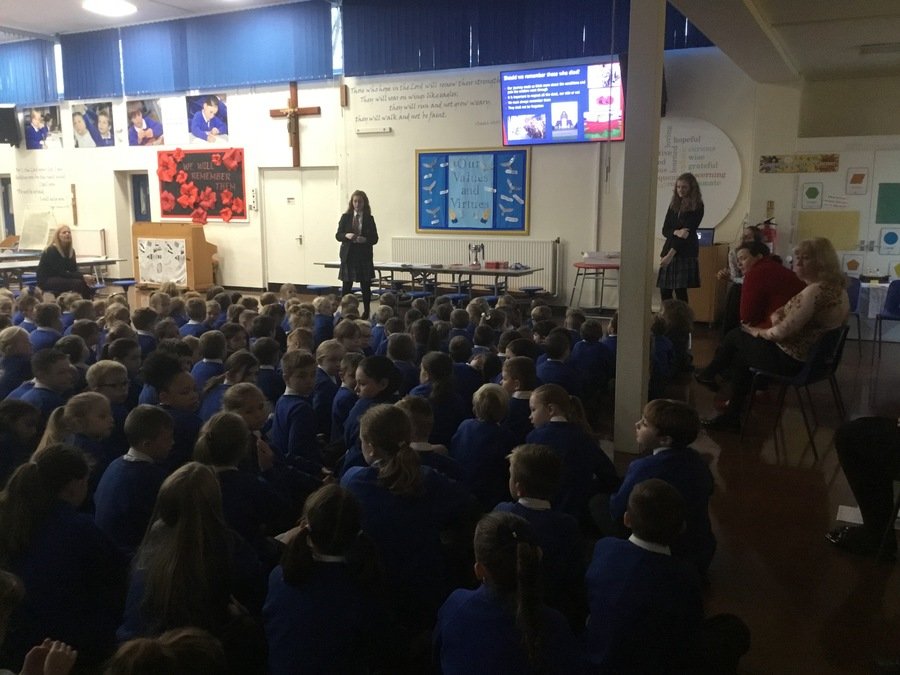 Roald Dahl Day for Years 1 & 2
Key Stage 1 'chidlers' held their very own Roald Dahl day in celebration of the autor's writing. They dressed up and completed activities in art, D&T, science and English. They made some 'delumptious' chocolate and created their own 'whoospy whiffling' marvellous medicines. What a lot of fun!
Raising money for CAFOD
In October, the whole school took part in raising money for CAFOD by wearing their own brightly coloured clothes. Well done to everybody for making this a success.
NSPCC visit
Chris from the NSPCC visited our school and spoke to all KS1 children and all KS2 children about some of the issues that can affect young people today. The children listened brilliantly, asked some fantastic questions and were a credit to their school. This was followed up the next week with classroom workshops for Upper Key Stage 2.
Autumn Fair
We'd like to say an enormous thank you to everybody that came, supported or helped to make our Autumn Fair such a fantastic day. Special thanks to our dedicated PTFA and other member of the wider-school community, school staff, RG Promotions (for the music), Wolves FC mascots, local schools that took part in the netball and football competitions and of course families for sharing in our day's events.
Congratulations to our very own football and netball teams who were both victorious in the tournaments, winning some closely contested matches in the process!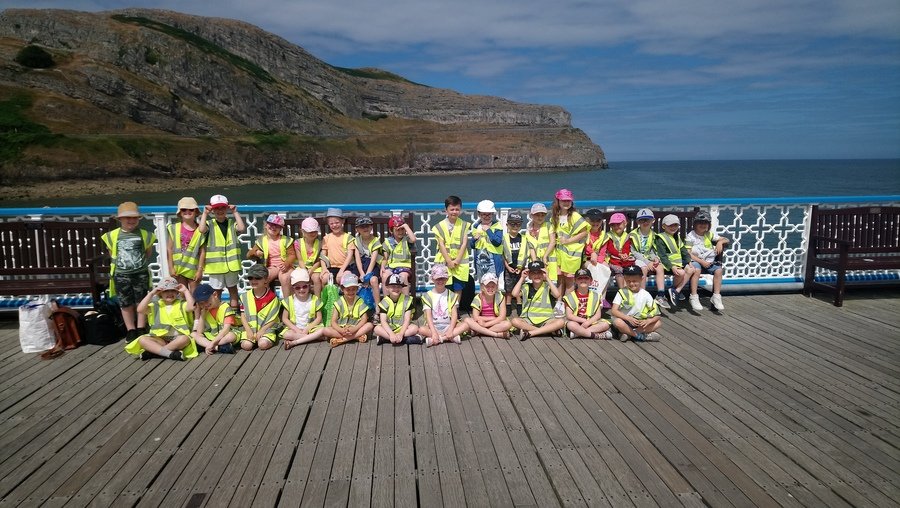 Community visit to Rugeley Fire Station
Learning about the people in our communities and the jobs that they do is important to us. This opportunity allowed Y6 children to speak to firefighters, fire service personnel & HGV drivers, whilst learning about their jobs and the importance of safety and first aid in different situations.
Sports Day
Early Years & Key Stage One
A fantastic morning was had by all. The children tried their best, supported each other and showed great team-spirit. Well done! Thank you to all those that came to support the children and of course, thanks to the class teachers who ensured the event ran smoothly.
Sports Day
Key Stage Two
What a fantastic event! The children's effort was commendable and they had a most enjoyable afternoon supported by their teams. Well done!
Thank you to all those that came to support the children and of course, thanks to the class teachers who ensured the event ran smoothly. A special mention for Mr Cox and his outstanding effort in the welly-wang!
It was a tightly fought contest but the winning order on this occasion was: 1st St Luke (blue), 2nd St Mark (green), 3rd St Matthew (yellow) and 4th St John (red) house team. Again , well done to everybody that made this a very enjoyable afternoon of sport.
Stations of The Cross
Classes represented the Stations of the Cross.
Ellie Simmonds visit
For our photos with Ellie Simmonds please follow the link here.
Class D and E's trip to the Warner Bros. Studio Tour
A great day at the making of Harry Potter experience.