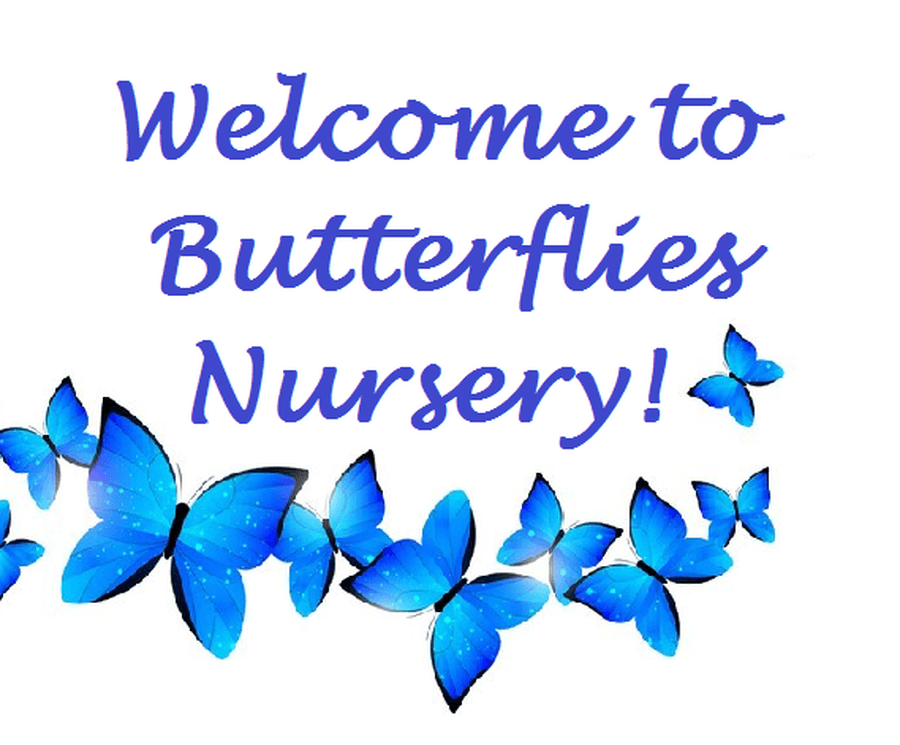 Welcome to our new and returning Butterflies
We are getting ready for you all to come and play on Thursday 2nd September at 8.40am.
If you are unsure where to go there will be a member of staff around to help guide you. You will need to follow the path up to the staff carpark, then go through the gate that has the 'Caterpillars and Butterflies' sign. Line up with your grown up in front of the little blue gate with the Butterflies sign on it where we will be ready to welcome you.
We will have lots of fun things for you to do such as painting, water play, the sand pit, bikes, jigsaws, dolls, trains and so much more!
At 11.40 after we have had a story and a sing song it will be time for your grown ups to pick you up from the same place they dropped you off. If you are staying all day you will be picked up from here at 3.10pm (please note that this has changed since last year).
Grown ups
Please do not be surprised if you are asked for your password, it will take a while for staff to recognise all the new faces. If you are unsure if you have set up a password, or have forgotten it, please ask one of the nursery team to check for you on Thursday. It is important to share the password with the people picking your child up, especially if it is someone who hasn't been before, it is for safeguarding reasons that we use them.
Please send your child with spare clothes including socks and pants, in a carrier bag with their name on. This will be left in school, just in case they need changing at any time.
We sometimes go on welly walks in the school grounds, so if you are able to send your child in with a pair of named wellies in the next couple of weeks that would be great, thank you.
Your child will need a waterproof coat, with a hood, every day. We have free flow play, where your child can chose to play inside or outside for the majority of the session; unfortunately we can never rely on good weather!
Your child should come in full school uniform every day, including school shoes. We will be doing lots of physical play but they will not need a PE kit. Please label everything you possibly can!
Every Friday, starting on the 10th Sept, your child will be sent home with a reading book in a folder. Please look at the book with you child over the weekend, read them the story and talk about the pictures, then sign the reading record and write a comment, just something simple like whether they enjoyed it, or which character they liked the most. Reading is vitally important for your child's learning and development throughout school and so we want them to foster a love of books while they are very young.
You can send your child with a named bottle of water if you choose, but this is not necessary, as all children will be offered milk or water at snack time and water will be available at all times throughout the day. A variety of fruit will be offered daily and on rare occasions we may have toast or birthday cake as well as fruit. (It is not an expectation to bring in cake when it is your child's birthday, however, some parents ask if they can)
Finally...
Thursday may be an emotional day, with lots of excitement and also some anxiety, for both you and your child. Please feel free to give the school a call just to check that your child has settled, to put your mind at rest. There may be tears but we are an experienced staff who will do our best to help your child settle and have a wonderful, fun filled day
Welcome to the Butterflies Nursery
My name is Mrs Waters, I am in the green skirt. I will be helping you to play and learn, together with (L-R) Mrs Campbell, Mrs O'Connor and Miss Russell. We will have so much fun together and we cannot wait for you to come and join us in September
This was us having our seaside day
You may have noticed we do like to dress up!
We are very lucky to have the most wonderful outdoor play area, with bikes to ride, a lovely climbing frame, musical instruments, a large sandpit and lots of construction blocks
In a few weeks we will be getting the classroom ready for you to play in and we may be having a little bit of a change around. The photos below are how the room looked earlier in the year