School Council Competition
Do you have an eye for design?
Can you be creative?
If so, the School Council would like you to enter a competition to design a new Merit Certificate for St Joseph's.
The winning design will then be digitally enhanced and used in school!
Merit Certificates are awarded for every 20,40,60, 80 and 100 merits achieved and they are awarded for outstanding contribution in different areas of school life e.g. effort and determination.
YOUR DESIGN
The Merit Certificate MUST include the following:
A title
The name of the awardee
Space for Mr Jobburns to sign and date
The Merit Certificate should be A4 (landscape) - there is no specific format so be as creative as you want!
School Council
A message from our Chair Person and Vice Chair Person
We are St. Joseph's School Council. We are twelve people who have been elected to represent our classes at school council meetings. Our main goal is to make St. Joseph's an even better place to learn while having fun. In our school council there are two people from Year One to Year Six and we are here to listen to everybody and help each other. We also have a chairperson and a vice-chairperson who help to lead our meetings. We are here to help you be happy at school.
Please come and speak to us if you have good ideas.
School Council 2019-2020
Watch this space! Our school councillors might be new but they've an important job to do already. Over the next few weeks, they'll be listening to their friends in classes and in free time and sharing ideas about how to make break and lunchtime more fun. If they come up with lots of good ideas, they'll need to impress Mr Jobburns before he gives them the go-ahead for any ideas that they may have.
School Council 2018-2019
Plastic Investigators
Next month we will be holding a Plastic Investigators day so that we can learn more about the plastic problem in the world. School council voted in favour of this event and presented the day to their classmates. The learning culminates in a poster competition with the winning entry receiving £20,000 for their school. Let's hope our entries are fantastic!
South Staffs Water Workshop
The school council organised a water workshop. Rachel Dean, Education and Community Outreach Co-ordinator for South Staffs Water visited our school recently so that the children could learn more about the importance of water and its responsible use. All children took part in a range of workshops following the Key Stage assemblies. We are pleased to be one of the first school to embark upon this joint learning venture and hope that we are contributing to the preservation of plentiful natural resources now and for future generations.
School Council Organise Eco-Hour
On Friday 15th February the councillors voted to hold an eco hour in school. At their last meeting they discussed what they could do to help the environment and reduce the school's carbon footprint. They voted unanimously in favour of holding an eco-hour where energy use is minimised across the school site. ALL children will take responsibility for turning off lights, closing doors, turning off computers for just one hour. It's a small start that will lead to bigger goals in the future. Well done to the School Council for leading the way and helping us all to understand our role in caring for the environment.
School Council at Mansfield House
School Councillors along with other Y6 pupils visited Mansfield house to propose their ideas for the regeneration of Rugeley Power Station land. As the sole representatives from all local primary schools, they articulated their vision for Rugeley very well, earning spontaneous applause from others in regards to their hopes and aspirations for the local area. All were in agreement that any development needed to include a memorial/monument to the land's past influence on the town. Well done!
Good News. Great Joy. We are supporting 'Operation Christmas Child'
School Council members alongside our Faith Ambassadors have decided to support the Samaritan's Purse appeal in the run up to Christmas. Our school community will fill shoeboxes so that overseas children receive a parcel with gifts in, which are given in Jesus' name.
The Samaritans Purse, international relief, work with local churches to help deliver shoeboxes in over 130 countries around the world to children living in difficult circumstances. For further information please visit: www.Samaritans-purse.org.uk/occ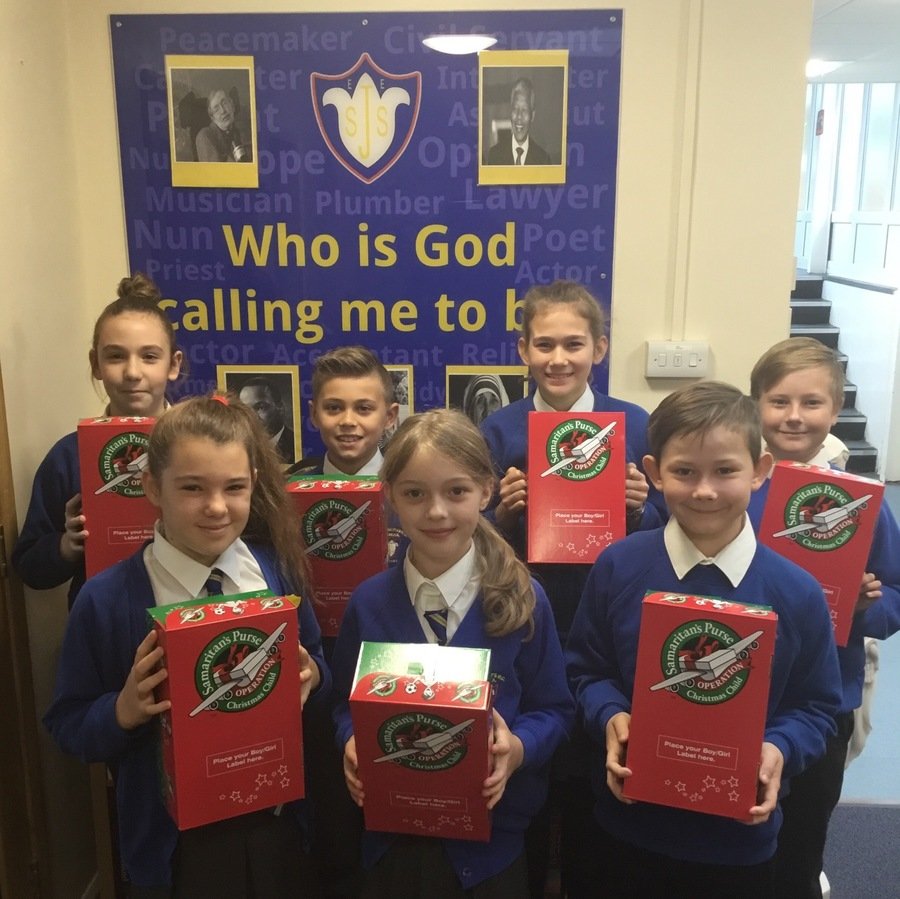 School Council success!
School Councillors recognised that we needed some new attire for PE competitions so, with the help of their teachers, they developed designs for PE shirts which were then purchased using the school's Sports Premium funding. KS2 children will now wear the new sports kit for all of their competitive fixtures. During a recent sports tournament, the girls' netball team tested the kit out as part of a healthy tournament win.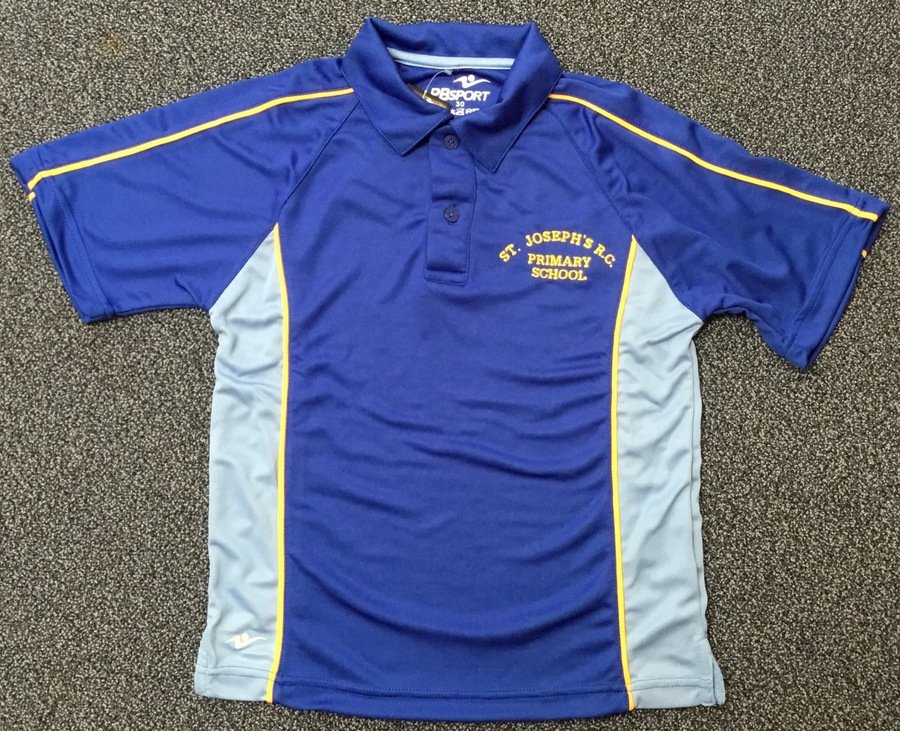 Making links with other schools
We recently visited Cardinal Griffin to share our work on supporting refugees. We learnt about accepting others and supporting those with very different needs to our own. We were able to share the work that we had done in school with others and will continue to help others to understand how life can be very difficult when moving to a new country.
Supporting refugee children in school
We recently led a school assembly where we shared our intentions to support refugee families in the local area. We talked about how refugee children and young people have experienced many difficulties on their journey to school in England and that they are looking for a safe place to live.
We know that we should show them love and kindness and offer them a warm welcome so we have decided to work in our classes on a small project that will support them.
KS2 children are creating an information pack about the local area with information about where to shop, where to worship, where to get help, holiday activities, clubs, bus timetables and maps of the area with easily understandable keys.
KS1 children are also making things to welcome younger children to the UK.
Have a look at some of our fantastic work below!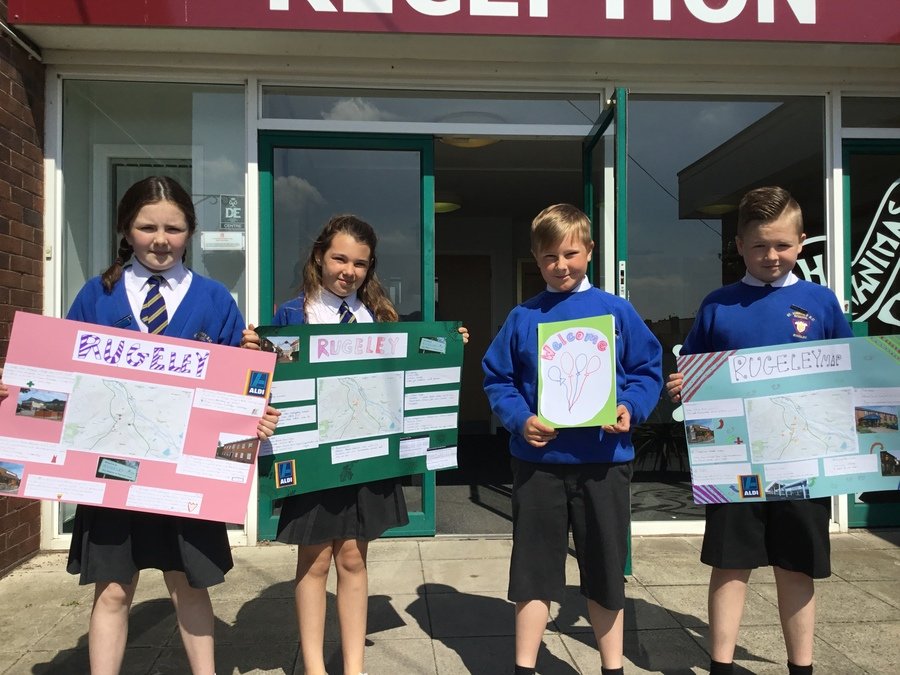 Year Three's Useful Information Map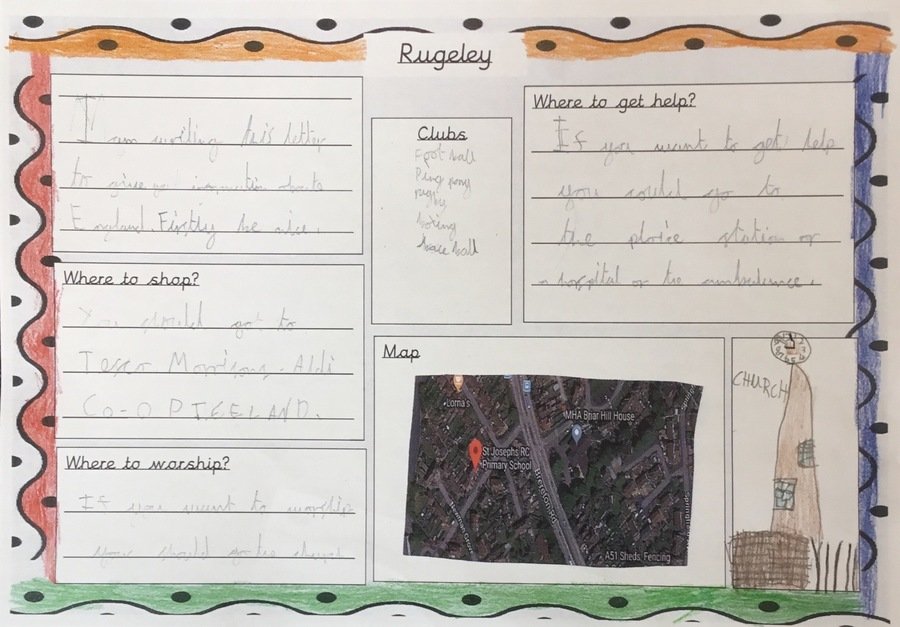 New Build- Time Capsule
On the 8th of March, school councillors from KS1 helped to bury a time capsule in the foundations of the new school build. School children had contributed to the time capsule by placing things of interest including: information about our school, images and their own writing so that maybe one day, years from now, other people might unearth it and be amazed at what life was like in the year 2018!
See the pictures below!